What would be more important to have than a driver's license by the time you get older enough to drive a car? Many people have to take driving tests several times before they can earn their driver's license. Being successful on taking the driving test at the first try is very precious as it can save you plenty of time and energy. However, it is obviously not an easy thing to achieve considering the fact that a lot of inexperienced drivers in the country fail their first driving tests. Either they get too excited or too nervous about the test, they tend to let their nerves take control over themselves during the test. In this situation, it is really easy that you forget all the important lessons that you have got from your driving instructors. Preparation plays an important role in the success of your driving test. You need to very knowledgeable on how to prepare for your driving test properly before you take the written test and hit the road for the driving exams.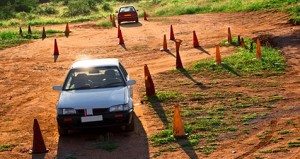 The written test is surely a lot easier than the road exams. Preparing for the first test is almost like preparing yourself for a final exam at schools. The latter exams should be taken more seriously. If you want to succeed at your first try, you need to practice really hard and prepare both emotionally and mentally.
The first tip of the day is to practice your driving skills more frequently. It is recommended that you practice with your car everyday. In addition to that regular driving practice, it would be best if you can learn about the secrets of drivings. You must get to know the things that the examiner tends to watch for. Thanks to the internet technology, you can reveal those driving test secrets a lot easier. There are plenty of websites that share these secrets and some other tips for this purpose for free. You just cannot rely on your DMV book alone anymore. There are a lot more important information that you need to discover yourself.
Not only that you can find plenty of secrets and tips of passing the driving tests easily, you might find some simulation software and videos related to this issue very enlightening. More interestingly, there are also some practice tests that you can try. That would give you a clearer sight on the real road test.  Make sure that you pay a lot of attention to the questions available on the websites. Many of them pertain the thing you must and must not do in your road test.
Your emotional state should be well prepared as well. You need to be emotionally prepared to get rid of the nervousness during the driving tests. It is important that you do not skip your breakfast even when you feel some hesitation. Not only that it will give you enough energy, you will be able to fight your anxiety as well. Enough rest at the night before the test is also important in how to prepare for your driving test.